If you love crispy potatoes, you have got to try this accordion potatoes recipe. A viral TikTok trend for good reason, these potatoes not only taste great, but they have a unique look that's lots of fun too.
You can vary the seasonings and dips for these potatoes according to taste, making this a really versatile recipe. This is perfect just as a fun side dish or serve as a snack for a party.
Looking for another delicious side dish? Try these garlic parm potatoes!
Want more recipes like this? Sign up to receive the Mixin Mamas newsletter!
Accordion Potatoes
Supplies
● 12 skewers
Ingredients
● 4 large Yukon gold or russet potatoes
● 1⁄4 cup butter
● 1⁄2 tsp dried oregano
● 1⁄2 tsp dried thyme
● 1⁄2 tsp kosher salt
● 2 cloves of garlic, minced
● 1⁄4 ground black pepper
● 1 tbsp chopped parsley
Prep Time 10 minute Cook Time 30 minutes Total Time 40 minutes
Yields 12 servings
Instructions:
Peel the potatoes. Cut each end off and discard.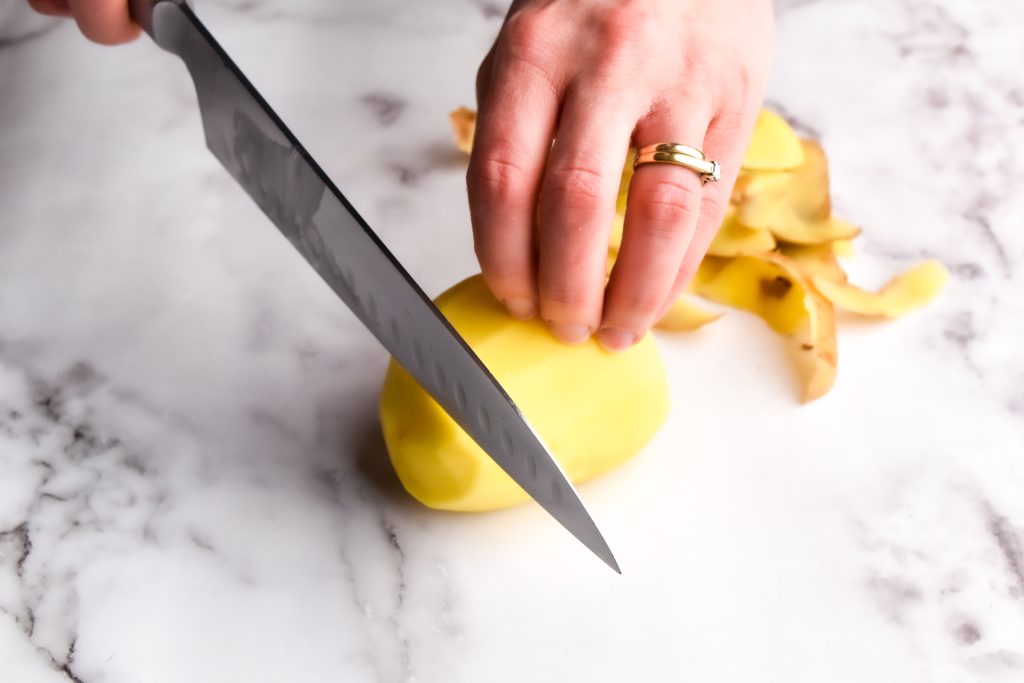 Stand the potato on its end and square off the potato by slicing the rounded edge off.
Now cut the remaining potato into 1 cm thick slices, again discarding the last edge of the potato. Repeat with the remaining potatoes.
Lay the potato slice down in between 2 wooden skewers. The skewers prevent your knife from cutting all the way through the potato. Cut narrow lines into the potato going perpendicular to the skewers.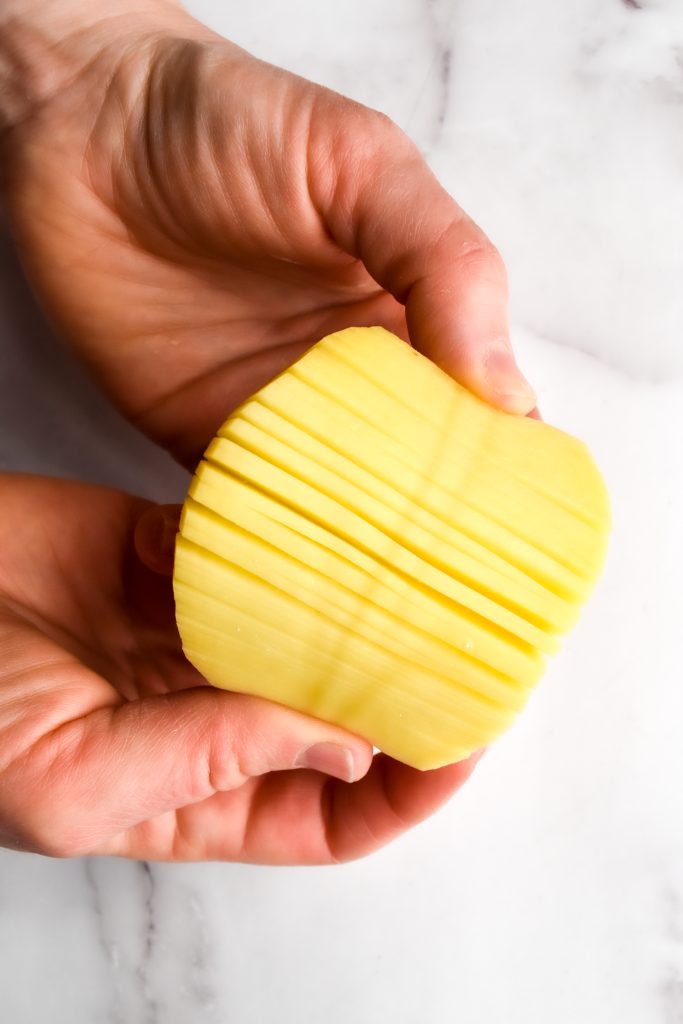 Flip the potato over and cut diagonal lines.
Gently skewer the potato and spread the accordion potato out.
Place the skewered potato into a bowl of water while you slice and skewer the rest to prevent the potato from browning.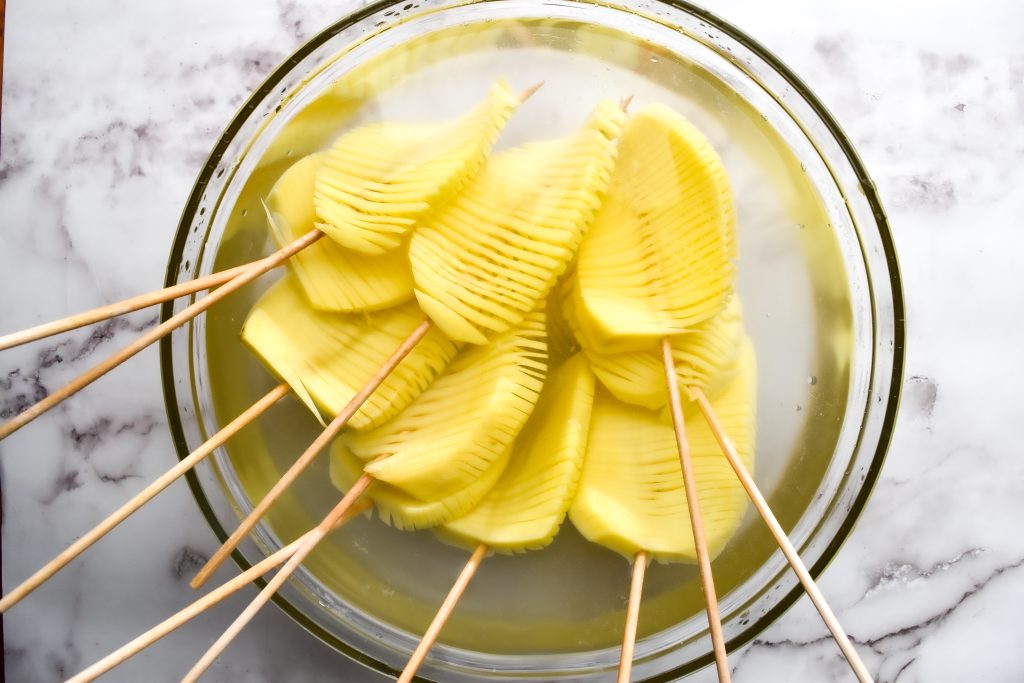 If you have time, soak the potatoes for 30 minutes or overnight. This will remove some of the starches and make them crispier.
Preheat the oven to 400 degrees F.
Make the herbed garlic butter: Melt the butter in a small bowl. Add the oregano, thyme, salt, garlic and black pepper and stir to combine.
Place the potatoes on a parchment lined baking sheet and brush the potatoes with the herb garlic butter.
Bake in the oven, flipping halfway through, for 30-40 minutes or until golden brown and crispy on the outside and tender on the inside.
Garnish with chopped parsley and serve with your favourite dipping sauce, such as ketchup or chipotle aioli.
Notes
A hot, preheated oven is essential for golden, crispy potatoes
The potato slices need to be thick enough to be skewered without breaking but not too thick.
Soaking the potatoes in cold water for at least 30 minutes or overnight before slicing them will remove excess starch and help them get golden brown.
Don't cut all the way through the potato. Use wooden skewers to prevent the knife from sliding all the way through.
Frequently Asked Questions
Can I use any type of potato for this recipe? Russet potatoes are an excellent choice for accordion potatoes because these potatoes are dense and have a low moisture content. They are also a large potato that will fill the skewer easily. Yukon Gold is also a versatile potato that can also be used to make accordion potatoes.
Do I need to skewer the potatoes?
Skewering the potatoes with wooden skewers is what helps them stretch into an accordion and hold their shape while cooking. When you cook them stretched out, they crisp up nicely because there is more airflow through the potato. Insert the skewer through the bottom of the potato, perpendicular to the slices. Spread the accordion potato out by gently pulling the bottom of the potato down and then repeat this process moving up the potato slice.
What seasonings should I use on these potatoes?
You can use any seasonings you would put on potatoes. Herbs, garlic, smoked paprika, and grated Parmesan cheese are all great options.
What kind of dipping sauces can I serve with these potatoes?
Some popular dipping sauces to serve with accordion potatoes include garlic aioli, spicy ketchup, sour cream and chive, mustard dip, and cheese sauce.
Accordion Potatoes
If you love crispy potatoes, you have got to try this accordion potatoes recipe. A viral TikTok trend for good reason, these potatoes not only taste great, but they have a unique look that's lots of fun too.
Ingredients
4

large Yukon gold or russet potatoes

1

⁄4 cup butter

1

⁄2 tsp dried oregano

1

⁄2 tsp dried thyme

1

⁄2 tsp kosher salt

2

cloves

of garlic

minced

1

⁄4 tsp ground black pepper

1

tbsp

chopped parsley
Instructions
Peel the potatoes. Cut each end off and discard. Stand the potato on its end and square off the potato by slicing the rounded edge off. Now cut the remaining potato into 1 cm thick slices, again discarding the last edge of the potato . Repeat with the remaining potatoes.

Lay the potato slice down in between 2 wooden skewers. The skewers prevent your knife from cutting all the way through the potato. Cut narrow lines into the potato going perpendicular to the skewers.

Flip the potato over and cut diagonal lines.

Gently skewer the potato and spread the accordion potato out. Place the skewered potato into a bowl of water while you slice and skewer the rest to prevent the potato from browning.

If you have time, soak the potatoes for 30 minutes or overnight. This will remove some of the starches and make them crispier.

Preheat the oven to 400 degrees F.

Make the herbed garlic butter: Melt the butter in a small bowl. Add the oregano, thyme, salt, garlic and black pepper and stir to combine.

Place the potatoes on a parchment lined baking sheet and brush the potatoes with the herb garlic butter.

Bake in the oven, flipping halfway through, for 30-40 minutes or until golden brown and crispy on the outside and tender on the inside

Garnish with chopped parsley and serve with your favourite dipping sauce, such as ketchup
Nutrition
Calories:
91
kcal
Carbohydrates:
13
g
Protein:
2
g
Fat:
4
g
Saturated Fat:
2
g
Polyunsaturated Fat:
0.2
g
Monounsaturated Fat:
1
g
Trans Fat:
0.2
g
Cholesterol:
10
mg
Sodium:
132
mg
Potassium:
305
mg
Fiber:
1
g
Sugar:
0.5
g
Vitamin A:
125
IU
Vitamin C:
4
mg
Calcium:
14
mg
Iron:
1
mg